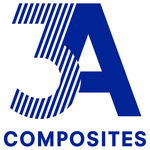 COMFLOOR®
COMFLOOR®, the modular construction system for heated and unheated floor panels, was developed for mass transit applications and patented by ACS.
Sandwich panels contain a foam core and have a covering layer made of aluminum. They are attached to the vehicle body or superstructure with a special clamping system. If damaged, the sandwich panels can be individually dismantled and replaced.
Heated COMFLOOR® floor panels consist of a sandwich panel and an electric heating foil, which are combined in a single component. The aluminum plates next to the heating foil protect the foil from penetrating humidity, while distributing the warmth quickly and evenly over the surface.
The lightweight sandwich structure is rigid. The insulating foam core minimizes the downward thermal flow and energy losses.
The standard calorific output amounts to 300 watts per square meter. The power supply depends on the voltages supplied by the electrical system of the vehicle, such as 230, 400, and 680 volts AC. Sensors for temperature regulation and thermostats for temperature limitation can be integrated in the floor panels.